Description
Play it like former World Champion Bobby Fischer!
I have always loved the King's Indian. My trainers, Ion Solonar and Vyacheslav Chebanenco, taught me to play it with Black, and also showed me how play the King's Indian set-up with an extra tempo. An important extra tempo: Black plays the King's Indian Defense, White plays the King's Indian Attack! This opening was also a favourite of chess legend and 11th World Champion Bobby Fischer who is known for his aggressive play and his wish to win every game. With the King's Indian Attack he scored 8,5 out of 9, creating a number of fine models games how to attack on the way.
The King's Indian Attack is mainly reached via the French Defense (1.e4 e6 2.d3) and the Sicilian with 2…e6, but it can also arise from the Reti Opening, when Black plays …e6 and …d5 to reach structures from the Queen's Gambit Declined. 30 years ago the King's Indian Attack was considered as an interesting and original way to avoid theoretical battles. But today's theory sees the King's Indian Attack in line with the modern approach to postpone the fight for the centre to the middlegame. The King's Indian Attack is full of positional and tactical ideas and often an unpleasant surprise for the opponent. The opening is easy to prepare but it's important to remember that the King's Indian Attack is more about ideas and plans and less about forced and complicated lines. Since my junior days it has been a reliable weapon and it still serves me well today.
• Video running time: 4 h 27 min(English)
• With interactive training incuding video feedback
• Extra: Database with more than 50 model games
• Including CB Reader
King's Indian: A modern approach
Author Victor Bologan about his DVD: "If chess players are in Iceland, they usually pay tribute to the genius of Bobby Fischer, the 11th World Champion, by visiting his grave in Selfoss in Reykjavik. With this DVD I also want to express my gratitude to Fischer: for his great contribution to chess in general and because he helped to make the King's Indian more popular in particular. As a junior, when I was ten years old, my coach advised me to study the openings of Fischer and I discovered the King's Indian. Later I learned about the different approaches Black has in the King's Indian. He can keep his structure flexible and put his pawns on d6 and c6; he can play the sharp and principled Nc6 in the classical lines and in some sidelines he can sacrifice a pawn with …b5 as in the Benko.
Top players such as Geller, Smirin, Kasparov, Radjabov, Nakamura and Ding Liren all played and play the King's Indian and they all have a different style, a different approach. When preparing the material for this DVD I studied the games of these experts, checked analyses with modern engines and used a lot of material from correspondence databases. Every day my King's Indian vocabulary got better, richer, and more varied. At the same time my confidence and my belief in the King's Indian also got bigger. If you study this DVD carefully and solve the interactive exercises you will also enrich your chess vocabulary, your King's Indian vocabulary, build up confidence in the King's Indian and your chess and win more games."
• Video running time: 7 hours 14 min (English)
• With interactive training including video feedback
• Database with more than 50 instructive games, extensive analysis of the theory shown on this DVD
• Including CB 12 Reader
King's Indian Powerbook 2021
If with Black you want to play for a win against 1.d4, 1.c4 or 1.Nf3, the King's Indian remains a good choice. Of course the risk is correspondingly somewhat greater. That was recognised by both Bobby Fischer and Garry Kasparov, who for years had the King's Indian opening as part of their repertoire, but did not employ it during their WCh matches. Our Powerbook gives you the chance to make valuable discoveries: better than averagely successful variations for White or secret weapons for Black.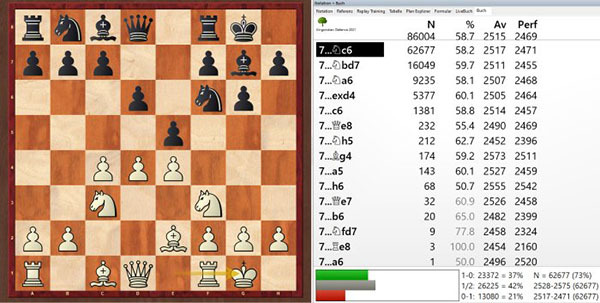 The King's Indian Powerbook 2021 is based above all on 264 000 games from the engine room of playchess.com with the addition of more than 107 000 games played by humans. The threshold of an average of 2375 for both players guarantees the high quality of the statistics. But what makes the Powerbook so valuable is that by searching a little you can discover nice secret variations for both sides.
King's Indian Powerbase 2021
The 839 selected annotated games offer an incredible amount of high level material for study. Top players such as Aronian (1 annotated game), Bologan (3), Carlsen (1), Caruana (1), Ding Liren (2), Duda (1), Eljanov (1), Firouzja (1), Gelfand (2), Giri (6), Kasimdzhanov (3), Kramnik (2), Mamedyarov (1), Navara (1), Radjabov (6), So (2), Wojtaszek (3) have analysed their games and in addition there are comments from King's Indian experts like Hazai (221), Krasenkow (115), Stohl (102). In all there are 11092 games in which the average rating of the players is at least 2585 (except for games with annotations or by the specialists Gelfand, Radjabov, Smirin, van Wely and Ivanchuk).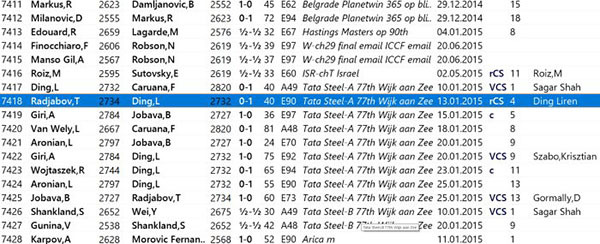 The database loads the games overview. A double click loads a game. With the tab Players the games can be sorted by frequency (with the tab Total). This allows close investigation of games by players such as Gelfand, Radjabov and Smirin (experts with the black pieces) or van Wely and Ivanchuk (specialists with both colours).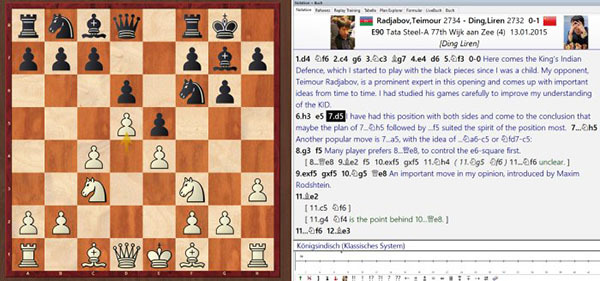 Payment & Security
Your payment information is processed securely. We do not store credit card details nor have access to your credit card information.